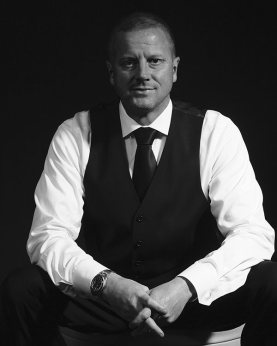 Attorney Craig Bernhardt
To me, being a trial lawyer means dedicating myself to standing up for the rights of people, never selling out, and actually caring about truth and justice.  I treat my clients like they are family.  I give them my all.  I pride myself on my caring and empathetic approach to working with my clients and their families.  I work relentlessly to help juries find the truth and deliver justice to those who have been wronged.
I believe in representing PEOPLE, not the Government or Corporate America. When I walk into a courtroom I am up against another attorney who is representing the Government or a Corporation. Make no mistake, there is an insurance company or governmental entity behind the other lawyer trying to limit an individual's right to justice.  Helping a jury see the truth and exposing the other attorney and corporation for what they are fuels my determination and passion to stand up for the rights of people.  For the members of our community.
I do not feel the need to brag about my success on television.  My record speaks for itself. I will put it up against any other member of the legal community. Any time. Any place.
I refuse to allow my law practice to be run as a "factory."  I will not place people on a conveyor belt and treat them as a number or a file. I want to get to know the people I choose to represent. I interact with them weekly if not daily. They become my friends. I educate them on the law. We work closely together. Too many lawyers fail to dedicate themselves and their time to their clients. They fail to get to know their clients or understand who they are or what their lives are about.  How can an attorney represent someone they don't take the time to know and understand?
I make a difference in people's lives.  I help people.

Craig has been featured in:
Contact Us Today For Your Free Consultation
Call our office, send an e-mail, or simply fill out this form to get started with your free case review.
1-716-800-1280
---
E-Mail
Craig Bernhardt is a partner and lead trial attorney at Nicholas, Perot, Smith, Bernhardt & Zosh P.C. He aggressively and proactively represents his clients in both personal injury and criminal defense cases.
Throughout his career, Craig has won hundreds of cases in various courts across New York State. Because of this unprecedented success, he was named partner at the firm after just three years of practicing law. This is an accomplishment obtained by very few within the profession.
Commitment to quality legal service is what separates him from average attorneys. This is why Craig handles a select number of clients at any given time to ensure each of them receives his personal attention. He will respond to your needs quickly and decisively and is always just a phone call away. This level of dedication is hard to find in a legal professional.
He is a Graduate of St. John Fisher College where he majored in Economics and minored in Political Science. He graduated from the Albany Law School of Union University where he concentrated in Civil Litigation. During this time he was recognized as a semi-finalist in the Senior Prize-Trial Competition. He is also a member of the New York State Trial Lawyers Association and the New York Nursing Home Litigation Group.
Bar Admissions
Education
St. John Fisher College

Albany Law School of Union University
Professional Associations
New York State Trial Lawyers Association

New York State Nursing Home Litigation Group
Practice Areas
Nursing Home Abuse

Medical Malpractice

Auto Accidents

Fall Down Incidents

Dangerous Animal Attacks

Criminal Defense / DWI
Craig also has attorneys available who can assist you with:
Workers Compensation Claims
Real Estate Transactions
Estate Matters
Matrimonial / Divorce
Bankruptcy
If your case requires outside knowledge and I can't help you, as an attorney within the legal community, I know who can.

The information you obtain from this site is not, nor is it intended to be, legal advice. You should consult an attorney for advice regarding your individual situation. We invite you to contact us and welcome your calls, letters and electronic mail.
Contacting us does not create an attorney-client relationship. Please do not send any confidential information to us until such time as an attorney-client relationship has been established.
Attorney advertising. Prior results do not guarantee a similar outcome.